In Home Personal Trainer, Training in Dallas, TX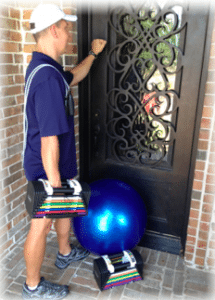 .
Efficient: Personal Training Delivered to You
Our Dallas personal trainers come directly to you, and bring all necessary equipment with them, each and every visit. Don't waste money on gym dues, childcare, or expensive equipment. Don't waste time driving to and from a workout facility. Train in the comfort and convenience of your own home.



Effective: Training PLUS Nutrition Gets Results
We use a comprehensive approach that gets results. This includes complex resistance training, active aerobic conditioning, diet accounting & advising, nutritional supplement counseling, and comprehensive biometric assessment. We measure our business by the yardstick of client results. Your success = our success, so our Dallas personal trainers won't let you fail!

Empowering: Body Transformation You'll Love
You will look better, feel better, and be better. Your risk of almost every major disease will decrease. You will become more attractive, to yourself as well as to others. Your confidence will soar. You will have more energy, more self-discipline, and more control of your life. Your motivation will return, and your emotions will find balance.

So What Makes Our Personal Training and Nutrition Coaching Different from the Other Services You Typically Find in Dallas?


Christian Philosophy – other personal training companies don't believe that the human body was designed and created by God to function best under particular physical demands and nutritional support … not a specimen evolved by chance through random processes that you can treat any way you want without consequence, or improve through unintended means such as medication.
Comprehensive Approach – other health and fitness companies might give you a personal trainer, but they don't provide you additionally with a dietitian, routine monthly assessments, daily nutrition coaching, natural health consulting, and constant online access to all of your current and past biometrics.
Convenient Delivery – other personal training companies don't save you time by coming right to you in your home, say nothing about bringing all necessary equipment with them each and every visit.
Comfortable Atmosphere – other health and fitness companies want you to perform awkward exercises in front of an entire gym audience, while we allow you to push yourself physically in the comfort of your own home.
Concrete Structure – other personal trainers and coaches often operate on a whim, allowing you too many different holes and cracks to fall through and miss out on results. We have every tiny process, procedure, and strategy buttoned up .. so you see change.
---
Dallas Office:
Elect Wellness
17304 Preston Road
Suite 800
Dallas, TX 75252
214-736-9365