In Home Personal Training Delivers Fitness Results to Carrollton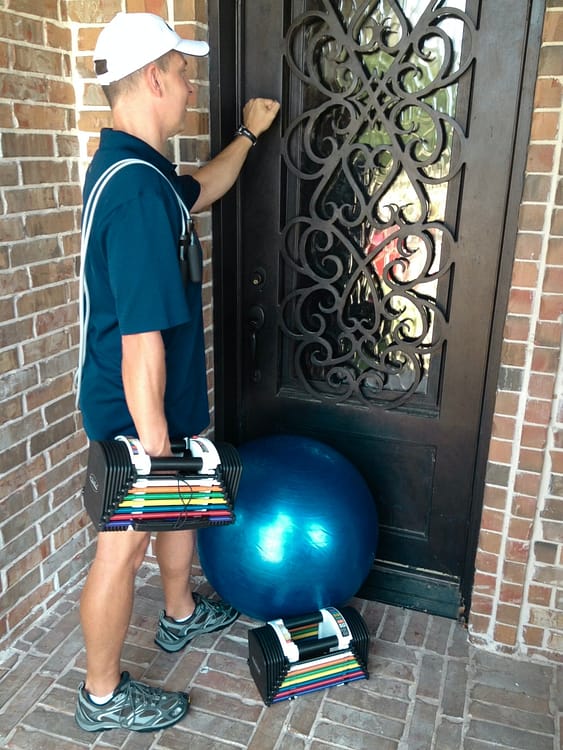 Yes, we deliver the most comprehensive and convenient personal training and nutrition coaching services you'll find anywhere in Carrollton! We bring all the necessary tools with us, and deliver fitness directly to the residents of Carrollton neighborhoods, including but not limited to:
Austin Waters
High Country Estates
Carrollton Heights
High Ridge
Estates of Indian Creek
Mustang Park
Creekside Park
Avondale
Gates of Prestonwood
Warmington Meadows
Moore Farm
Copperwood
What a Client Said about our Carrollton Personal Training
*Note: Your results may vary, depending on the both the level of your compliance with our program and strategies, and the speed at which your unique body responds.
Rather than continuing to explain what our home-delivered personal training and nutrition coaching can do for you, we'll let a recent client and Carrollton resident share his story with you via the transcript from his video testimony. Here are his words in response to our questions during the post-program interview:
What was it that made you look for a health & fitness solution?
"The last 2-3 years, I'd put on more weight, not moving as much, and getting older. I didn't really have any problems, but my wife said she really wanted me to live a long time, and that now was the time to do something. You guys came over and made a very compelling case that this is something I had to do, and if I stuck with it at least 3 months, it would pay off .. which it did!
What made you choose Elect Wellness?
There is a gym close by, but again, it's getting up, going there, finding a trainer, whatever. My wife's idea was that she would make it as easy as possible, and take the excuses away for why I couldn't do something. 'We'll make this real personalized, she said. "They are going to come to you to help you out.'
What did you like most about working with Elect Wellness?
I would say by far, the experience I had with Bob, my trainer, was the best experience. He knew how to communicate with me. He knew how to push me, but I felt good every time I was done. Even though I may be a little sore, tired, he knew just the place to go. It was always different. He changed it up. It was never the same routine twice, although elements existed during every workout. I have to confess after doing the first couple weeks and everything, I was excited: ok, Bob's coming over … we're gonna to do this! Then I made the commitment to 2 more workouts by myself on the side. I can say that I consistently did 4 sessions a week – 2 with my trainer and 2 on my own. He gave me the skills, the different exercises … I could combine them to do different things. It was not a regimented routine. It was just fun. He understood how to work with me, and I never got hurt!
What have you changed regarding your nutrition?
It's funny, at first I had to really work at it to get the right foods down [and not eat too much]. Now, it's almost like I don't need more … I'm ok. I eat much more frequently than I used to. I used to eat three times a day. I've found that I actually like vegetables that I thought I didn't care for. If I know I'm going to go out at night, I'll have a little less so in the end I still come out about the same. I'm getting pretty good at hitting the numbers.
What have you noticed since working with us?
I can tell you that 2-3 weeks into it, mentally I was faster than I've ever been. I can process now more, better, faster. I can be in high stress situations and I work through it. I don't get excited, I don't get worried. I don't know if that's a result of doing this, but it's the only thing I can track it back to – the eating and the exercise helped me sharpen up. I've now lost 3" off my waist, I was down 21 lbs when I finished. I'm now down another couple pounds since then. I'm stronger. I started out with being able to do 18 pushups. We ended when I finished with Bob at 65. And then … did 3 sets of 35 and 25 after that! That was was pretty powerful. That was a pretty good indicator. My initial goal was, 'Jeez, if I could do 45, that'd be great.' Getting to 65, I basically beat what I did when I was 18 yrs old. I actually feel better. I can sustain things, I can lift things. I sleep well. When I get up, I'm ready to go. I'm mentally alert. I feel stronger. The clothes fit better. My waist size is down, while my chest size actually bigger. My shoulders are bigger by a couple inches. So everything went from moving proportionally from the gut … we had a name for it- I called him Oscar- he has taken a permanent vacation and now it's more up here [chest, shoulders] and I just feel better.
What would you say to someone considering Elect Wellness?
Going 3 months, minimum … and I would recommend this to anybody … gets you in the habit. Not only that, if you are truly training and doing the food and everything else, you will see a difference, and you will see it sustained. Yes, I'm now down 22 pounds over where I started and I feel stronger and better than I ever did. But if I would have stopped at month one, I would have been discouraged, 'well, I only lost 4 pounds' and there is a high probability that I would have just stopped. The other thing, for me personally, having someone that holds me accountable was a great way to continue.
What would you say to current clients who might not be making the most of their opportunity?
I know stuff can come in between. I understand that. I have a busy life, but I was invested in this. From an emotional standpoint, I was invested because my loved one, my spouse, cared for me. I was invested financially. If I'm going to invest this much, I'm going put that much into it. My recommendation to any client would be, 'if it's worth doing, do it right." You know what, that's the cool part about working out with the Elect Wellness folks. I had Bob that came over – he was the constant motivator. He'd say, 'Come on, you can do it. It's alright.' If I had a question, all I had to do was text him. He'd text back. Need to talk to Tom? I could email him. My nutritionist? If I had a question … there at the beginning … I probably emailed Kelsey every day. Within a few hours, I'd get a response. The people are there to help you get where you want to go. Utilize them. That's what they're there for!
What if you get "too busy" to continue this healthy lifestyle?
It's because I do this that I can handle all the other things! Now I'm not saying there couldn't be life events that could take me out for some reason, but it's kind of like we talked about earlier – pay yourself. This is paying myself. This is taking care of me. I know I'm probably on the latter half of my life, not the forward half. That's ok. I'm all good with that, but I still want to live a good life.
*Note: Your results may vary, depending on the both the level of your compliance with our program and strategies, and the speed at which your unique body responds.
7 Reasons Our Carrollton In Home Personal Training is Your Key to Body Transformation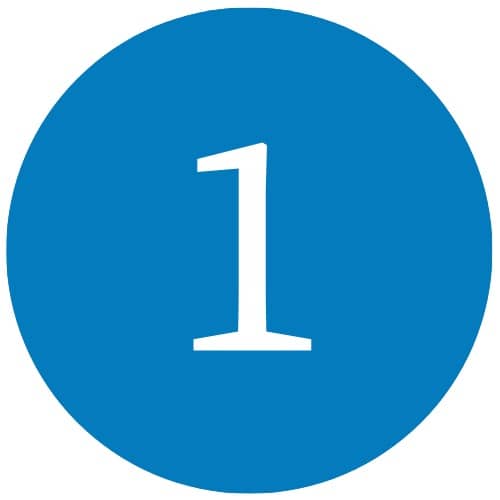 By coming to your home in the Carrollton area, your personal trainer better learns your specific lifestyle challenges and can prevent them from becoming roadblocks on the path to your desired body and health. No equipment? No problem. We bring all the necessary tools with us!
You get personalized instruction from not just a teenage weekend-certified rep counter on 'roids, but a real professional trainer with intense education in anatomy, physiology, & natural health & fitness.
You get personalized instruction from not just a teenage weekend-certified rep counter on 'roids, but a real professional trainer with intense education in anatomy, physiology, & natural health & fitness.
Our unique Comprehensive Biometric Assessments will give you the much-needed month-to-month motivation you need to hit your checkpoints on time and achieve your overall goals. Your own fitness nutritionist in Carrollton will come right to you with all the equipment needed for scheduled measurement.
Your own health and fitness biometric app and photo food journal complete with your ever-improving photos and 20 personal statistics will keep you excited on the journey to a new and better you. Get the benefits of a biggest-loser style visual of your change, right here from your personal trainer in Carrollton, TX.
You will receive daily diet accounting and weekly nutrition coaching – not from a multi-level marketing supplement salesperson, but a trained nutrition professional who helps you make choices that result in lasting change. Furthermore, the nutritionist will review your biometric changes every month, making sure you are seeing the progress you want while building habits that will help you maintain everything you achieve.
You've got nothing to lose: We offer a 30-Day 100% Money-Back Guarantee of Your Satisfaction with Our Service and Your Progress. That's right: if on the 29th day, you tell us that we haven't delivered what you thought you were buying, we'll refund every penny paid & respectfully say goodbye.
The Reason Why Carrollton, Texas Needs In Home Personal Training
Though Carrollton only houses about 125,000 people, there are over 30 hospitals and medical centers – and they are doing unfortunately well. It's a sign that that residents' health is not. The solution starts with physical fitness, as exercise (and a healthy diet) has proven to ward off the vast majority of the diseases and conditions that challenge our quality of life. Gyms and fitness centers have popped up throughout the city address the need for personal training in Carrollton, TX. Here's just a few of them: 24 Hour Fitness, Sportsplex, God-Built, Anytime Fitness, LA Fitness, Just Fitness 4U, Fitco, Summit Climbing Yoga and Fitness
Are these options, however, even making a dent in the huge health and fitness need that Carrollton has? Are the services they offer effective, or are they just copies of long-held industry beliefs and practices?
We live in the "instant" age. And we also live in the "mobile" age. People want what they want 1) WHEN they want it and 2) WHERE they want it. Let's face the facts – you don't have to go to a store to buy a car part, a tool, a kitchen appliance, a piece of furniture, or just about anything for that matter. Nope, instead you can have it delivered to you. And why wouldn't you? You save time. You keep unnecessary miles off your car. You don't have to get "all fixed up" and go out. Instead, you can get exactly what you need, exactly what you want, in the comfort of your own home.
Now, when it comes to a service like personal training – something that involves someone really getting to know you: how you live, how you eat, how you sleep, how you stand, how you sit, how you move – why would THAT be one of the things you need to leave the house for? If you are hiring someone to REALLY help you change your habits, why should that involve you leaving the place where you do life? You see, not only is in-home personal training more comfortable and convenient for you, it's also vastly more effective. It's a true win-win.
Furthermore, our licensed and registered dietitian meets with all of clients in their home on a monthly basis, performing a comprehensive biometric assessment and a nutrition consultation, each and every visit. It's a feature that is in addition to your weekly personal training sessions. It's what really sets our business apart from all the other "solutions," and it's also what sets you up for success.