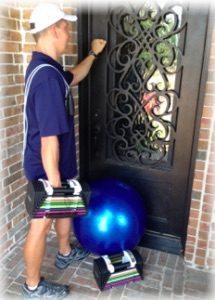 Yes, we deliver the most comprehensive and convenient personal training and nutrition coaching services you'll find anywhere in Dallas! We bring all the necessary tools with us, and deliver fitness directly to the residents of Dallas neighborhoods, including but not limited to:
Bent Tree
Villas of Lake Highlands
Glenwood Estates
Lake Ridge Estates
Royal Highlands
Forest Knoll Estates
Preston Hollow
Glen Cove
Hillcrest Park
Turtle Creek
Preston Meadow
Russwood Acres
Hockaday Square
Lake Forest
Melshire Estates
Windsor Park
Verbena
And more …
What our Clients Have to Say About Our Dallas Personal Training
"I am so impressed with Elect Wellness. The expertise the trainers have is beyond anything I have ever experienced in a gym setting. I am so impressed with the knowledge that my trainer has not only in fitness but also in how to work around injuries, while still ensuring a great workout. Having the trainer come to you home is so convenient. My trainer is very punctual and easy to work with. Additionally, the nutrition counseling is excellent. Again, the nutritionist is extremely knowledgeable and very helpful in guiding you toward learning how to eat the right portion of carbs, proteins and fats. I would highly recommend this company if you are struggling with getting started on your fitness journey or if you really want to learn the proper technique for a great workout. Believe me, you will get a great workout in under one hour. What a top notch company. "
– Carrie of Dallas, TX
"This is an amazing and life-changing program. I love how they combine the physical and nutritional aspects for a more wholistic approach. Both my fiance and I have seen great results. The workouts are tailored to your specific goals- whether you're looking to lose weight, tone up, or train for a marathon. Liza (trainer) and Kelsey (nutritionist) have been nothing short of amazing. A highly recommended (and fun) investment in yourself and your overall health!"

– Nick of Dallas, TX
Call 214-736-9365 Today to Finally Achieve Your Fitness Goals
Think about it: What would life be like with 100% confidence in both your appearance and health, with the strength and energy to do all the things you really want to do?
Request our Dallas in home personal training and nutrition coaching program details and pricing below:
7 Reasons our Dallas In Home Personal Training is Your Key to Body Transformation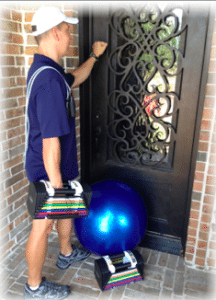 By coming to your home, your Dallas personal trainer better learns your specific lifestyle challenges and can prevent them from becoming roadblocks on the path to your desired body and health. No equipment? No problem. We bring all the necessary tools with us!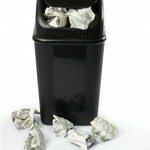 You don't have to waste money on gas driving around Dallas, mileage off your car, or even worse: your precious time trying to get yourself and even kids to and from a germ-infested gym with minimal & often questionable childcare. (not to mention often questionable personal trainers)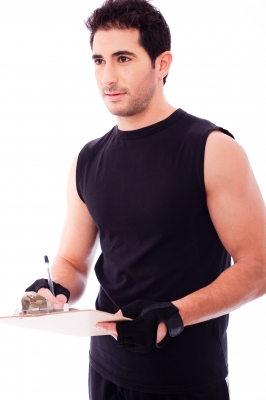 You get personalized instruction from not just a teenage weekend-certified rep counter on 'roids, but a real professional Dallas personal trainer with intense education in anatomy, physiology, & natural health & fitness.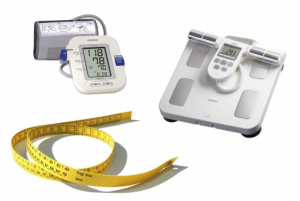 Our unique Comprehensive Biometric Assessments will give you the much-needed month-to-month motivation you need to hit your checkpoints on time and achieve your overall goals. Your own fitness nutritionist in Dallas will come right to you with all the equipment needed for scheduled measurement.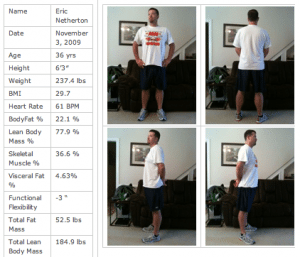 Your own password-protected webpage complete with your ever-improving photos and 20 personal statistics will keep you excited on the journey to a new and better you. Get the benefits of a biggest-loser style visual of your change, right here from your personal trainer in Dallas, TX.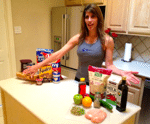 You will receive daily diet accounting and weekly nutrition coaching – not from a multi-level marketing supplement salesperson, but a trained Dallas registered dietitian who helps you make choices that result in lasting change. Furthermore, the nutritionist will visit your home monthly to make sure you are seeing the progress you need to see, and your fridge and pantry are supporting your goals instead of robbing results.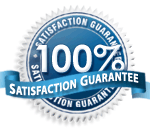 You've got nothing to lose: We offer a 30-Day 100% Money-Back Guarantee of Your Satisfaction with Our Service and Your Progress. That's right: if on the 29th day, you tell us that we haven't delivered what you thought you were buying, we'll refund every penny paid & respectfully say goodbye.

Jess of Dallas Gets in the Best Shape of His Life with the In-Home Personal Training and Nutrition Coaching of Elect Wellness
Note: Your results may vary, depending on the both the level of your compliance with our program and strategies, and the speed at which your unique body responds.
What's Your Name, where are your from, and what do you do?
I'm Jess. I'm from all over the place.  I just ended up in Dallas. Was born in Kansas, lived all over the place growing up.  I work for AT&T.  I'm a network manager there.
Why did you seek out help?
One was that my family has a history of heart disease.  So I've got to keep the weight under control.  I've got to keep the high blood pressure under control and I was on medications for it and I was like, you know, yeah, this is a short-term solution but it's really a bad long-term solution.  And the second was I was looking in the mirror and I was like, there's a fat blob there!  I don't want to see that anymore.  So, okay, I'm done!
Why the Elect Wellness Dallas Personal Training and Nutrition Coaching Team?
So, I've worked with a trainer before and it worked but it didn't last so then I went looking and found Elect Wellness and said, yeah, this will work for me.  The combination of the nutrition and the trainer workout, it seems like, yeah, I think this will work best and it's worked pretty well so far.
What did you like about your Dallas In-Home Personal Training and Nutrition Coaching?
The thing that really attracted me to it was the science behind it.  You know, the network – I'm an engineer by trade and my family is really big into the nutritional stuff so I know the basics of it but it was, you know, here's everything we're doing and here's why we're doing it.  Here's why you've got to (unintelligible) 1:28, here's why you've got to have this much protein, here's why you've got to do this type of exercise.  When I worked with (Bob), my trainer, he would do this exercise, okay, what are we working here?  Why am I doing this?  And he explains it really well.
What's your favorite part?
Probably the personal interactions with everybody, with the trainer, with the nutritionist; there's a whole lot of feedback.
Initial improvements?
I found the first month that I was on the program I lost like eight pounds or something like that.  I noticed a difference in myself but, you know, other people around me said, are you on a diet, are you really doing stuff?
Pounds lost so far?
As of yesterday I'm down 26 so far.  I'm down two pant sizes so far.
How do you feel now?
I definitely do feel different.  I feel more powerful for lack of a better term.  Just walking around is like I'm more in control of my body.  Just the little things.
How long have you been with us?
Four months for that so far and I've signed on for a year so I'm still not to my goals yet but we're still steadily progressing and going to get there probably ahead of when my initial goal was.  We'll get to where I want to be before when I planned I'd get there so we'll have some time to do some more stuff and get there.
Thoughts on the exercise?
I think what's been different for me, especially with this approach because it's not just the free-weights but, you know, (Bob) used the sandbag and all of the other different stuff so it's all the balance muscles, the controlling muscles which are developed probably for the first time in my life but I've never seen a sandbag before; completely and utterly shocked me.  It is a great exercise but I've nicknamed it the Sandbag of Doom because every time we get it its like, I'm just completely and totally wiped by the end of it.  Great, I'm getting a lot out of it but it's like, I think I just used every muscle in my entire body.
Any advice for others?
The opportunity is there to get out of it what you want.  It's going to be work.  It's not easy but it's straightforward.  You know, everybody at Elect Wellness is very good at saying, here's the path, if you follow it you will see the results.
Was it hard to commit?
You know, I've said I'm going to do it for a year.  I can survive anything for a year.  If you do it for three months or six months then you can survive anything for three months to six months.  Now, as I'm finding out it's not just going to be for a year, it's going to be okay, I'm completely revisiting everything I think about food and how I do stuff and no I can't get the chicken fried chicken when I go to Chili's all the time but then it's like, okay, well this sucks but then I go and look in the mirror and say, yeah but it doesn't suck that bad; I can handle that!
Will you keep the lifestyle?
I honestly think my future self myself will see the pain, the work, the results and all of what I worked at and the results, why would I ever want to go back?
Meg of Dallas Uses the Home-Delivered Nutrition Coaching And Accountability of Elect Wellness to Regain Her Ideal Body Weight
Note: Your results may vary, depending on the both the level of your compliance with our program and strategies, and the speed at which your unique body responds.
What's Your Name, where are your from, and what do you do?
My name is Meg, I life in Dallas, Texas and I work in marketing at a large corporation, a large healthcare corporation. I am big into yoga.  I'm actually a certified yoga instructor and I play roller derby.
What was the problem?
Slowly over the course of about a year I had gained probably 15 pounds which is sort of unusual for me and I just really needed a little bit of help being accountable to sort of a more healthy style of living.  I just needed somebody there to help remind me to make better decisons basically.
How'd you hear of us?
I saw a coworker of mine over the course of a couple of months she lost a bunch of weight and she looked really healthy and she seemed really happy and that's sort of what got that conversation going.
Why Elect Wellness?
Normally when you're looking for some kind of weight loss program to follow it's sort of a Russian roulette of trying to guess if maybe this person's program will work for you versus this program.  No deprivation-based diet, which many of them are, is sustainable, it just isn't!  That's not how you live and even if you lose weight on it the second you get off of it you're going to gain that weight back because you're going to go back to the way that you're eating.
What worked for you?
You know, the little odd things that I do, I have a sweet tooth, and they acknowledged that and instead of saying well you absolutely can't have sweets it's more like well what can we find that's healthy to eat that's not going to ruin your healthy eating during the day but still satisfies that sweet tooth?  And we're just going to acknowledge that that's going to happen and we're going to acknowledge that little mistakes will be made and that not everyday's perfect but how do we kind of work around that so that it works on a day-to-day basis?
Was home-delivery valuable?
I do quite a bit of extracurricular activity so not having to drive someplace and not having to take the extra traffic time is actually a really big deal to me.  Whether it's 30 minutes or 15 minutes or whatever it's huge for me.
What was the result?
I lost the 15 pounds that I had gained so that was great because now my pants fit again and I'm way to cheap to buy new pants.  Inches lost all around my body; pretty much the entire thing.  Mostly around my waste which is where I wanted to lose it anyway so that was great, that was perfect.
Learn anything surprising?
I definitely learned that I wasn't getting enough protein.  I am a vegetarian.  I do participate in quite a few athletic endeavors so it's very important to me that I eat correctly for those activities because if I don't then my muscle recovery isn't good, then I can't go to practice the next day and then I can't play a good game later that week.  So that's all very important and then I figured out that what I was eating was not really appropriate for how an athlete would need to eat.  I learned a lot about how to eat both pre and post workout activities so if I have a two-hour practice how do I fuel up for that and how do I eat after that to make sure that I'm getting the most out of the exercise as possible?
Exercise vs. nutrition?
I have been working out that entire time that I was gaining that weight so it was really the change in eating was a huge shift.  Just how I approached that and that's really how I lost the weight.  It was not – I was working at the same level, in fact, in some of the months that I worked with my nutritionist I was actually working out less.
Any advice for others?
You can't put a price on feeling good and being able to move around well and being awake and energetic and just feeling good about yourself.

The Need for In Home personal Training in Dallas, Texas
Dallas has a weight problem. Being the home of great restaurants like The French Room, Stephan Pyles, and Abacus probably doesn't help. Fortunately, a variety of fitness gyms such as Cooper Fitness Center, Telos Fitness Center, and Elevation Fitness  attempt to offset the problem. But are they really helping? The local hospitals Texas Health Presbyterian, Baylor Unity Medical Center, and Parkland Memorial are certainly not hurting for business. Yet the major diseases that bring people there are supposed to be preventable through healthy lifestyle. There is definitely plenty of great places to exercise in Dallas, even outside of the gyms. Parks like Riverchon, Clyde Warren, and Buckner offer great settings for walks, jogs, and biking. Yet that doesn't seem to be enough to positively effect the fitness of Dallas residents. What is going on? Maybe there are just no healthy food options. That can't be the case. Afterall, Natural Grocers and Ann's Health Food Market, among others, offer natural groceries and balanced meals. Now, research has shown a relationship between poverty and health problems, so maybe that's at play. However, the median household income of Dallas residents is $50,740, well above the national average.
It boils down to priorities. And with such a fast-paced and family-packed life, Dallas residents find it hard to take care of themselves while trying to care for everyone else. They need structure, but not in a burdensome way that adds to an already hectic schedule. They rather need a convenient solution. Not "pop-a-pill for for 3 months, lose 5 pounds, and leave me feeling terrible" convenient, but something that will impact lasting positive change. Yes, convenience needs to be miraculously paired with comprehensiveness. It's tough to do, but our years of experience in Dallas, offering personal training and nutrition coaching, have grown into a home-delivered service that actually works. How about that for a change?
Dallas Office:
Service Summary
Reviewer
Review Date
Reviewed Service
In Home Personal Trainer in Dallas
Client Rating