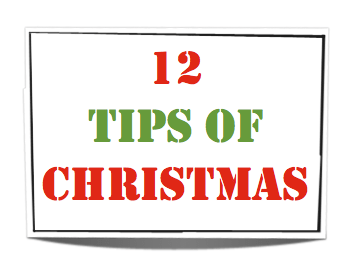 In light of a French chant that became a popular English carol, we're giving you 12 health tips, loosely based on the song that celebrates the twelve traditional festive days of Christmas:
A Partridge in a Pear Tree The perfect snack is a lean protein source and a piece of fruit, like turkey jerky & a pear. Fruit is also a great dessert. Slice a pear (or an apple), sprinkle with some cinnamon and stevia, and microwave for a couple minutes. You could even top the fruit with some oats or low-fat granola.
2 Turtle Doves Doves are a sign of peace. While the holidays are supposed to be a joyous and enjoyable time of year, preparation and travel often adds to our stress levels. This stress releases within our bodies the damaging hormone called cortisol. Sometimes family expectations over the holidays can increase stress. Remember the real reason for the season: a perfect gift for imperfect people. That proper perspective helps us forgive, which is the best weapon against stress – whether it's forgiving others, or yourself.
3 French Hens Poultry is a great lean protein source and makes a good substitute for ham. Focus on the white meat and avoid eating the skin. This will save you tons of calories from fat, especially the saturated kind.
4 Calling Birds Finish drinking before the "last call." Drink alcohol in moderation, avoid high calorie mixers like juice and soda, and sip on water between drinks to help you stay hydrated. Focus on the fellowship with friends and family more than the drink in your hand.
5 Golden Rings Golden rings remind me of commitment. Indecision and a wayward mind are unhealthy. The holidays are no time to let your commitments slide, especially commitments that keep you healthy. Disease doesn't take a holiday break. In fact, it often gains its greatest advantage while people put healthy habits on pause, while eating poorly to boot. Keep your commitments and benefit from your fortitude.
6 Geese A-Laying Eggs are a great protein source because they have all nine essential amino acids, are easily digestible and can be very low calorie if you avoid the yolk. Keep eggs or natural egg whites around for a quick protein-packed breakfast, or include a hardboiled egg white at a snack or on a salad.
7 Swans A-Swimming Swimming is a full body workout, has low impact on joints and can be a cardiovascular and resistance workout all in one! Try out water aerobics to include more resistance training or swim consecutive laps for a great cardiovascular workout.
8 Maids A-Milking There are many different kinds of milks and milk products available. Organic skim milk, non-fat Greek yogurt, and low fat cottage cheese are highly recommended protein sources. If dairy causes you to have stomach upset or congestion, try unsweetened almond milk for a lower calorie, high-antioxidant calcium alternative.
9 Ladies Dancing Don't make your celebrations solely about food. Get your friends and family together during the holiday to engage in some group exercise. Soccer, football, tennis, golf, even dancing are fun ways to get everyone together while burning some calories. You'll be amazed how much better you feel.
10 Lords A-Leaping Leap into the New Year with some new health and fitness goals. Set a new goal weight or eliminate a food item you know negatively impacts your health or desired results. Why not sign up now for a 5k, half marathon, or the full 26 miles? Nothing is more motivating than knowing that day is on the calendar!
11 Pipers Piping Obviously smoking is terrible for you. But what about smoked meats? As alluring as they can be, they are filled with cancer-causing nitrites and nitrates. If you simply can't resist, eat just the meat and avoid the blackened skin. Also avoid cured and preserved meats that have "nitrite" or "nitrate" in the ingredient list. These compounds react with amino acids in the body to create a compound called a nitrosamine, a potent carcinogen that your body must deal with.
12 Drummers Drumming If you are getting headaches or even migraines that feel like 12 drummers drumming in your head, think about how your diet may be influencing and/or instigating your pain. Are you drinking enough water, taking a multivitamin, getting essential fats, avoiding preservatives like MSG, getting enough sleep, avoiding or at least timing your caffeine intake, and restricting alcohol consumption? If you answer no to any of these, you are opening the door to drummers in your head.
Next time you hear the song, see if you can recall these tips. Repetition is the key to learning. But more importantly, APPLICATION is the key to benefitting!