In Home Personal Trainers Deliver Fitness Results to Flower Mound, TX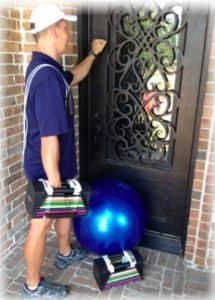 Yes, we deliver the most comprehensive and convenient personal training and nutrition coaching services you'll find anywhere in Flower Mound! We bring all the necessary tools with us, and deliver fitness directly to the residents of Flower Mound neighborhoods, including but not limited to:
Bella Lago
Bridlewood
Canyon Falls
Chateau Du Lac
Chimney Rock
Creekside at Heritage Park
Emerald Bay
Estates at Tour 18
Flower Mound Oak
Flower Mound Woods
Lakeside
The Landing
Point Noble
The Preserve at Flower Mound
Regency Park
River Oaks Estates
The Sanctuary
Wellington
Whisper Creek
Wichita Creek
And more …
What our Clients Have to Say About Our Flower Mound Personal Training
"Previously, I had chronic foot, back, and neck pain, as well as a frequent numb feeling in one of my legs. I was unable to stand for more than fifteen minutes, and had difficulty sleeping due to additional pain in my rotator cuff, as well as the many medications I had to take. As an operating room and recovery nurse, my health was beginning to affect my job skills. It was becoming very difficult to lift and position patients. I needed to do something about it. When I started working with Elect Wellness, I wasn't particularly enthusiastic or devoted, and I had some difficulty getting the hang of many of the exercises. I couldn't even do five abdominal crunches. But I stuck with it, and after five weeks, my foot, back, leg, shoulder, and neck pain was all gone! I can now lift my grandchildren without any problems! I even crawl on the ground and play hide and seek with them! I've dropped 10% in bodyfat and my muscles feel very toned. Thanks for your help."
– Marilyn O. of Flower Mound
"I have to wear my belt in another notch. I've also noticed I can jump higher, and can now grab the rim on the basketball court. My shirts are fitting looser, and I have more energy than before."
– Cache O. of Flower Mound
*Note: Your results may vary, depending on the both the level of your compliance with our program and strategies, and the speed at which your unique body responds.
7 Reasons Our Flower Mound In Home Personal Training is Your Key to Body Transformation
By coming to your home in the Flower Mound area, your personal trainer better learns your specific lifestyle challenges and can prevent them from becoming roadblocks on the path to your desired body and health. No equipment? No problem. We bring all the necessary tools with us!
You don't have to waste money on gas driving around Flower Mound, mileage off your car, or even worse: your precious time trying to get yourself and even kids to and from a germ-infested gym with minimal & often questionable childcare.
You get personalized instruction from not just a teenage weekend-certified rep counter on 'roids, but a real professional trainer with intense education in anatomy, physiology, & natural health & fitness.
Our unique Comprehensive Biometric Assessments will give you the much-needed month-to-month motivation you need to hit your checkpoints on time and achieve your overall goals. Your own fitness nutritionist in Flower Mound will come right to you with all the equipment needed for scheduled measurement.
Your own password-protected webpage complete with your ever-improving photos and 20 personal statistics will keep you excited on the journey to a new and better you. Get the benefits of a biggest-loser style visual of your change, right here from your personal trainer in Flower Mound, TX.
You will receive daily diet accounting and weekly nutrition coaching – not from a multi-level marketing supplement salesperson, but a trained nutrition professional who helps you make choices that result in lasting change. Furthermore, the nutritionist will review your biometric changes every month, making sure you are seeing the progress you want while building habits that will help you maintain everything you achieve.
You've got nothing to lose: We offer a 30-Day 100% Money-Back Guarantee of Your Satisfaction with Our Service and Your Progress. That's right: if on the 29th day, you tell us that we haven't delivered what you thought you were buying, we'll refund every penny paid & respectfully say goodbye.
How our Flower Mound Personal Training is Different
There is no shortage of gyms, studios, and centers offering group fitness classes and personal training in Flower Mound. Here is an incomplete list of the available options for residents this city:
Lifetime Fitness
Brick House Cardio
9Round Fitness and Kickboxing
Private Workout
Curves
Anytime Fitness
But people are really looking for something more. They need a professional who thoroughly understands their individuality, their unique goals, and the challenges of their current situation. That's where a solution such as ours outshines all the other Flower Mound personal training options.
We are different:
Creation Perspective – our personal trainers, like many residents of Flower Mound, believe the body was intelligently designed to run optimally on healthy foods and respond best to certain physical demands … not an accidentally evolved mistake naturally capable of positively adapting to whatever drugs and chemicals we put in it
Convenient Delivery – our personal trainers come directly to your home. Not only do you get to stay in Flower Mound, you don't even have to leave your house. You get to save much of your most precious and valuable asset – your time.
Comprehensive Approach – beyond your personal training sessions, you will have a licensed and registered dietitian coming right to your flower mound home each and every month, assessing your biometrics and consulting with you on the ideal nutrition intake for your body and goals.
Comfortable atmosphere – You get to work with your personal trainer in your own living room, bedroom, office, patio, garage … Indoors, outdoors, whatever you want. Unlike the gym, you get to control both the thermostat and the radio too! It's your choice of temperature and your choice of music. And unlike your local Flower Mound gym, you don't have to worry about strangers watching you workout and silently critiquing your body.